About us
...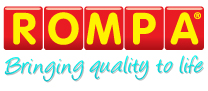 Normally in this section you would find a number of cleverly versed paragraphs telling you all about Rompa and our history. Not here... Whilst this information can be very important to give you the knowledge and reassurance that you are dealing with a reputable company, we believe however, that it's not our past that's important, but what can be done for you – our customer in the here and now.
"It's a reality that most people are affected by a disability or syndrome at some point of their life, influencing how they experience and interact with the world."
The fulfilment we obtain through our own experiences and independence can sometimes be taken for granted. For many the world can be a confusing, challenging and even frightening place which can have a life altering and debilitating effect on their quality of life if they don't receive the correct help, support or services they require. Rompa exists because of these reasons and our sole mission is to give you the help, support and resources to try and improve the quality of life for the people you care for.
We are a world leading supplier of a wide range of multi sensory equipment and services for all ages and ability levels and so far we have helped over 10 million people improve their quality of life.
A little more detail
...
Rompa was formed over 28years ago in Derbyshire and we were the first company to bring the concepts of Snoezelen Multi Sensory Environments to the UK. Our involvement in the landmark Whittington Hall project, which was delivered in conjunction with leading professionals Joe Kewin and Roger Hutchinson, was the first of its kind and a great success. Since then we have grown internationally through a network of dedicated partners and now supply Snoezelen Multi Sensory equipment and environments to over 40 countries worldwide.
We are proud to be part of the Flaghouse Inc, a family run business established over 50 years ago in New Jersey, USA, who share our vision and values. Together we promise that our commitment to you will be the same it has always been. We are here to help as many people across a wide range of circumstances, backgrounds and industries.
Click Here to read about the core values that are so important to the service we provide...