August 2013 bought me to my two year anniversary as part of the Rompa team. I can honestly say it has been a rewarding, educational and valuable two years.
I was very fortunate to gain employment with Rompa straight after completing a degree in Interior Design. My third year graduation project was the design of a Respite Centre for those affected by autism, alongside a dissertation on 'How Interior Design can aid and improve the lives of those with autism'. It was this project being shown at our graduation exhibition that lead to me having contact with Rompa and successfully getting a job as part of their design team. I learnt a lot during the research undertaken for my graduation project and have continued to build on that knowledge while at Rompa. I have always had a passion for the caring industry; the sensory sector is one I find fascinating and highly rewarding to be a part of. Through my role I get to practice my passion for design and also help a wide variety of users gain a space that can enhance their lives in such rewarding and valuable ways.
During my first few months at Rompa I spent the time adjusting to the way in which the design and installation process works, learning the history of the company, using new programs and getting to know the team I work with. In my two years at Rompa I have worked on many exciting projects in all sectors, including room design, exhibitions, specialist projects for charitable events and large projects abroad. I have attended sales advisor visits, undertaken site surveys and had a glimmer of the life of an installer.
In this year and last I have attended various exhibitions, including the Autism Show for which I designed the stands. Being able to meet our customers and interact with people face to face is not something I get to do very often as a designer but I find it very valuable and get a huge amount of satisfaction from. As a designer of such important spaces it is vital we are aware of the users needs, experiences and feedback… what better way to do this than speaking with people directly.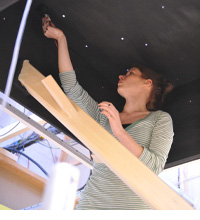 2013 also saw Rompa install their fantastic showroom here at our headquarters. I oversaw the project and ensured the installation process went smoothly. It was great to see the design work we had undertaken grow into a room in front of our eyes and I loved being part of it through the design, manufacture and installation stages. I got my hands dirty at each stage and found it very rewarding to be part of the build process including some late nights spent painting and cleaning to ensure we met our deadline.
After over a year of being the only female member of a male dominated team, 6 months ago I got some female support in the form of Helen our newest designer. The dynamics of our happy office have only been improved by her arrival, and she helps me keep the men in check.