Our attention has recently been drawn to a potential issue that could cause damage to Portable Midi Bubble Tube units (18516), purchased through Rompa before the 1st October 2014. If you have purchased this item you will receive a letter containing this advisory statement, a plastic fitting and some warning stickers.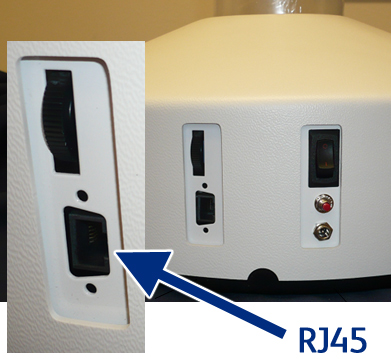 An issue may arise if an INCORRECT connector is inserted into the socket that is intended for the use of the Rompa Interactive Switch Box (17274) only. This socket, located on the unit's base, is an RJ45 (or network) socket. Please see the image above.
We would like to take this opportunity to advise you how you can avoid this issue and to provide you with a fixture that will help eliminate such a possibility.
Firstly, you MUST NOT use the socket for anything other than its intended use i.e. connection of the Rompa Interactive Switch Box (17274).
Secondly, you should insert the plastic fitting, included with your letter, so that it covers the socket to prevent it being used for any reason other than with a Rompa Interactive Switch Box (17274).
Thirdly, you should apply the stickers, enclosed with your letter, to the base of the unit so that clear messages are visible.
Please confirm receipt of these instructions by completing and returning the slip attached to your letter.
Using an incorrect connector may cause an electrical short across two of the contacts inside the socket. If this happens the unit may suffer an internal connection cable failure which may disable your unit. This can also cause smoke vapour to escape the base unit and this may set off any fire alarms in the vicinity. Tests by the manufacturer have proven that the unit would not ignite into flames as it has safety devices to prevent this.
If you have any questions and or concerns please contact us as follows:
Telephone +44 (0) 1246 211777
E mail – [email protected] please quote ref. PMBT