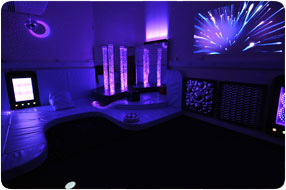 Pennyman Primary School in Middlesbrough approached Rompa looking for our expertise to help guide them with the development of a big Sensory project. They were planning to convert an unused hydrotherapy area into a Snoezelen environment which could help many children with a wide range of Special Educational Needs, but did not know where to start or what could be done with the unusual shaped room.
After an initial consultation with the Head of the school, the team at Rompa got together and came up with some initial ideas based on the facts that had come out. Gemma Cooke, the designer at Rompa translated their comments into a stunning design which was shown to Pennyman in a detailed 3D graphic design. It was clear however that something wasn't quite right and that the staff, children and community wanted more for their room.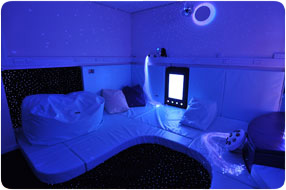 Always happy to help Rompa again made the journey up to Middlesborough to discuss how we could give them what they wanted. The "Eureka" moment came when Mrs. Christine Watson said that they wanted a Sensory room like no one else in the area and that it had to have the "wow" factor.
Since this is the news the Rompa creative team love to hear, they began working closely with the staff at Pennyman Primary to achieve the shared common goal: to create an amazing, unique and changeable environment for the staff, children and community to use that would stand the test of time and give untold benefits for those who need it. "It was at this point that ideas and knowledge was being shared really quickly and the staff had some great ideas. It is these sorts of projects that I really enjoy working on knowing that everyone has been creative and that every product has been selected to benefit the children" – Gemma Cooke, Designer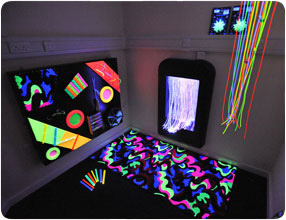 After 6 designs and several visits to the North East, together we got there and a unique Snoezelen concept room was developed. The final room was really one to be proud of for both Pennyman and Rompa. It was a fully customised Snoezelen which had the new Sensory Magic system acting as the hub of the entire room controlling all the Rompa equipment, as well as the interactive Optimusic system and state of the art music system.
The Rompa manufacturing team had also built a custom soft play area and bubble tube corner to make the most of the strange angles in the room. The project was a real success and Rompa had the room finished and looking amazing in under 6 days, from start to finish. Afterwards, as the Rompa team handed over the room along with full training on the equipment, we met with the head teacher and asked why she chose Rompa ahead of the competition.