Sensory events of everyday life surround our experience of being an individual
...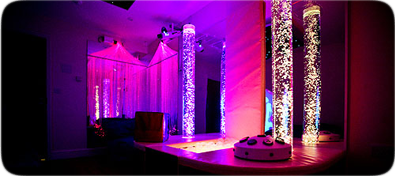 The Multi Sensory facilities provided by many schools and specialist centres have proven to provide long term tangible benefits for those who need assistance balancing their sensory inputs.
The experiences gained in a Snoezelen Multi Sensory environment can greatly assist with those who are affected by various cognitive disorders, social and emotional issues and multiple physical impairments. However, what happens when they leave this environment?
---

Multi Sensory equipment incorporated into everyday activities
...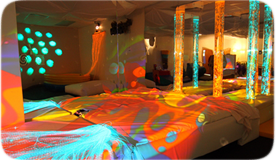 The positive sensory outcomes experienced in a Multi Sensory environment must continue outside of it, if not, this can lead to increased anxiety and the stigma of having a good experience always followed by a bad one.
We believe it is imperative therefore that certain items can be taken out of the room and integrated into everyday life to assist calming or stimulation, where necessary.
Toys, blankets, comforters and various learning aids plus many can come in various sizes for ease of transport. These items can meet all budgets and are great to keep in cars, living rooms and bedrooms to be accessed when required.
How Rompa can help
...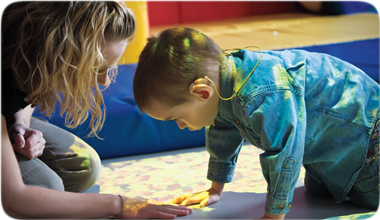 Rompa have worked with the University of Southampton and the creators of the Positive Play Programme from Derbyshire County Council to create a selection of recommended products which can be tailored to meet your requirements for use in and around the home.
In consultation with these professionals we have created a wide variety of kits, which are designed to meet the needs of the individual, not the disorder.
By monitoring behaviour and understanding sensory preferences, these packages can be chosen and used to promote positive behaviours in a fun and therapeutic way.
---

---
Find out more
...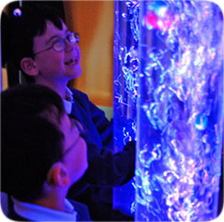 Our website is full of fantastic information about how Multi Sensory equipment and environments can benefit those you care for. Visit our free resources page to see the large amount of research that has taken place for using Snoezelen to act as an effective therapy for a wide range of conditions and disabilities or browse our selection of recommended products.
Rompa has a dedicated team of advisors with many years of experience in the providing multi sensory environments and equipment to residential homes in the UK.
Why not call or email us to book your free consultation today?
Call: 0845 230 1177
Email: customer.service@rompa.com