First Progress Report on the PM's Challenge on Dementia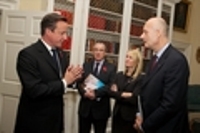 The first progress report has been published on the Prime Minister's Challenge on Dementia.
The purpose of the report is to set out what progress has been made against key commitments and actions published in the PM challenge document. It aims to share how key interventions are starting to make a difference for people with dementia, their families and carers. It sets out how the three Champion Groups have gone further and faster than originally foreseen.
It also sets out plans for the coming months – there is still much to do and what's been achieved so far are the building blocks for improvement. We hope the report can be a vehicle to help galvanise greater support and engagement across society to help the champion groups deliver their ambitions.
The report can be found at: http://dementiachallenge.dh.gov.uk/2012/11/08/report-on-progress/
The Prime Minister launched the dementia challenge on 26 March 2012 :
The public is being asked to join in the dementia debate online by Tweeting using #dementiachallenge
The Government is running a nationwide TV campaign to raise awareness of dementia and to encourage people who maybe worried about a loved one or a friend's memory to have those difficult conversations and to encourage them to see seek help early. You can watch the advert here:
Dementia Friends can be followed on facebook www.facebook.com/DementiaFriends, twitter @dementiafriends and via the hashtag #DementiaFriends. You can also keep up to date with the latest news on the project blog dementiafriendsblog.org.uk