Rompa® Interactive Lighting System - 4 beam system
Back by popular demand - and now better than ever! Music through movement! A whole new meaning to air-guitar and pretend drums!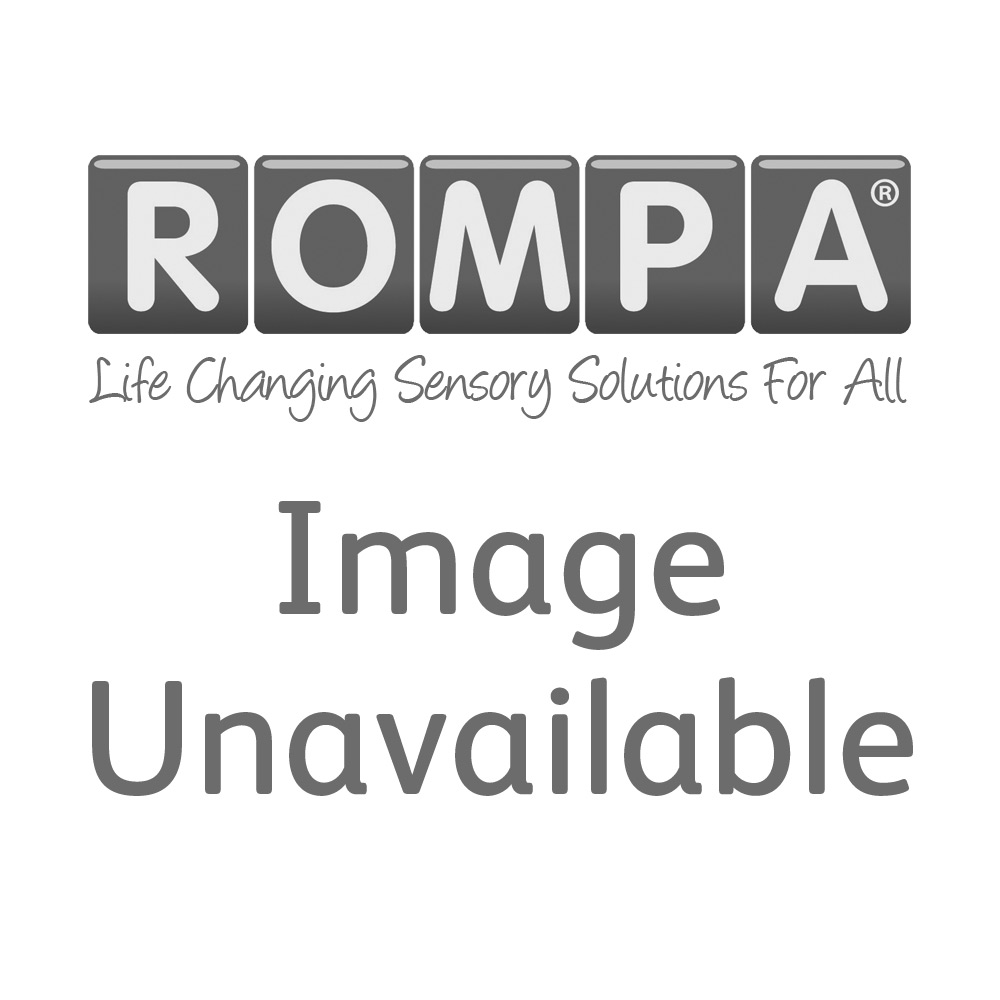 Back by popular demand - and now better than ever!
Music through movement! A whole new meaning to air-guitar and pretend drums!
Interact with beams of coloured light by passing a hand, foot or reflective bat through them.
Trigger sounds at the wave of an arm … Activate chords at the sweep of a bat … Play interactive music games whilst setting off images, videos and graphics
'Indestructible' beams act as powerful visual reference points for participants
Turn-key operation
Fits within the Curriculum
Recognizable rhymes, tunes and fun sound effects
Audio-visual effects in real-time
Pre-programmed yet easily updated
Space-saving
Safe, hygienic and effective - nothing to trip over or touch!
Multiple beams can be installed together
Helps understanding of cause and effect and stimulates hand-eye co-ordination, interaction as well as motor, musical and listening skills
Includes:
PC or Laptop
Cool-running Optibeams with long-life low voltage bulbs, all cables and accessories
OptiMusic Control Box
OptiMusic software
Reflective bats
Reflective floor pads
Manuals
For fixed installation - contact us about our Design and Installation services.
Optional extras for wall projection if required:
Projector
Whiteboard/screen
Now features:
OptiCalculator - numeracy play
Timer Control
New musical features
… even more to inspire and empower participants to influence their own environment and get couch- and mouse-potatoes moving!

The OPTIMUSIC range is extensive and evolving. Contact us for information about further options, including mobile trolleys, switches and wireless options.
Testimonials
Testimonials
"A valuable resource for customers using our service at Goscote Centre. It provides multiple benefits where our customers can explore the sensory environment via the use of interactive beams. Uploading photographs personal to the individual using the system creates a unique experience which can be comforting, whilst enhancing learning and play. The sessions are tailored and personalised to meet individual need which is an objective we aim to achieve throughout our day to day service delivery. We use our system in many ways e.g. to develop interactive skills within small groups to encourage the users to take turns to activate the beams. For customers who benefit from visual stimulation seeing images that change as a result of their actions develops their understanding of cause and effect."
Emma Partridge - Senior Reablement OfficerDay Opportunities & Employment Adult Social Care
"The system has been a very accessible and exciting for our pupils. It is very responsive to the smallest movement so even our more physical disabled pupils have been able to produce sound and contribute to a greater sound installation, for example, our iPad Orchestra. Pupils were very keen to give it a go and experiment with the sound effects".
Ellen Croft - PMLD Curriculum LeaderLeicester
"OptiMusic is a very successful and exciting way of presenting a sensory curriculum in a different subject areas. Easy to use and a good use of technology."
Patrick Plunkett - TeacherFredrick Holmes School, Hull.
"It has suited our needs as a motivator, reward system, and aid to communication / social interaction. It is great fun for all ages and ability levels."
Jeanette Saunders - Senior TherapistBIBIC (British Institute for Brain Injured Children), Somerset
"OptiMusic brings in a wider focus on drama, music, dance and everyday life experiences with the use of role-play and story telling. Children, young adults and the more experienced citizens can use this equipment. We use it with young adults with severe learning disabilities as well as the more able groups and each group get as much fun out of it because it is so flexible."
Chris Pasmore - Head of Day Services & RespiteLambeth Social Services
"Most pupils find OptiMusic great fun and, given proper management of sessions, they are able to maintain levels of concentration, which are unachievable in most other parts of their lives."
Mr David GaukrogerDirector of Music at Sunfield School, Stourbridge.
"We use OptiMusic to develop literacy through touch, sound and light - using all the senses to bring a story to life. OptiMusic is a brilliant and versatile tool that is fun, and can be used by children and adults of all ages and abilities."
Dianne Ryan - Senior TeacherGreenfields School, Northampton.
"We use OptiMusic to retain and or regain cognitive memory, peer group support, musical phrasing and memory, numerical counting and confidence building."
Ms Shan Mills - Community Support WorkerThe Ormonde Centre, Newbury.
"It enabled me to express myself in music, as I have never done before."
Ray - Ormonde Centre Service User.
More Information

| | |
| --- | --- |
| Vat Exempt | Yes |
| Unit Qty | 0 |
| Dimensions | 4 beam system |
Check items to add to the cart or